07.27.14
Guitar Blog #4 - PC1 Custom (Splatter)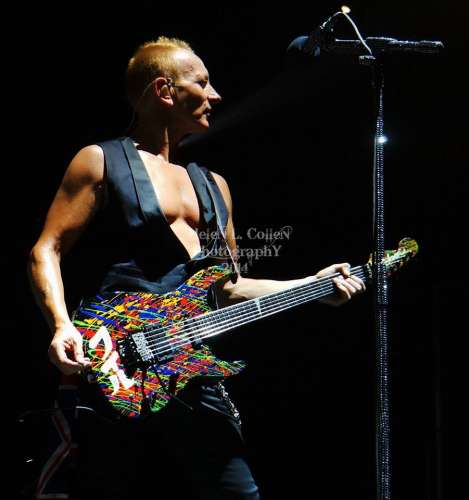 About 6 years ago Mike Kotzen, Artist Relations at Jackson Guitars was at my house and asked if I could think of anything that we could do to celebrate the 30th anniversary of Jackson Guitars. We came up with a plan to paint and personalize 30 guitars with a unique artwork that had me going to the Fender/Jackson factory in Corona, California at intervals for the next year (it's only a 35 minute drive from my house if the wind is blowing in the right direction). I loved the whole concept. I really got to see from the ground up what really goes into the deeply involved process that creates a custom Jackson guitar.
Interestingly enough, although I've always loved art I hadn't drawn or painted anything since I started playing guitar at age 16 and soon realized I'd exchanged one art form outlet/expression for another and although I'd matured as a musical artist my drawing and painting absolutely sucked. I was where I had left off at 16 but any technique that I had, had left me 30 odd years ago due to lack of practice hence giving credence to the old "if you don't use it you'll lose it" phrase, a powerful metaphor for anything in life.
This being said I opted out of a drawing or painting but instead chose to personalize the guitars in a paint splashing extravaganza ala "Jackson Pollock" style, where I chose 4 colors that would stand out. The first being "Fire Engine Red" that I would literally splatter like blood, resembling a CSI crime scene and wait for that coat to dry or with the aid of a hairdryer or the amazing drying room at Jackson which helped along the process. Sometimes the batch would be as big as 9 guitar bodies or as small as 3 and sometimes if the paint hadn't dried I'd have to come back another day to start the next color.
We finally finished the 30 guitars plus a few extra artist proof guitars of which this is one of two that I own. Mine have thicker necks than the other 30 guitars. This was just in time for the 2010 NAMM trade show. I also played it on the 2009 Manraze UK tour, when we opened up for Alice Cooper. I've since seen some of these 30 guitars as far away as Australia and Japan. I also gave the tattoo artist Kat Von Dee a PC1 Splatter as a gift for the beautiful job she did in creating tattoos for my wife and I. Kat had it on display in her shop which I saw on the show for several episodes. The original guitar on Kat's wall was my gift to Mike Kotzen-artist relations at Jackson Guitar. It was the only PC1 Splatter that had three pickups. When we finished the guitar for Kat we exchanged hers out and Mike got his guitar back. So for those who are really into detail and want to dig deep you might notice that the PC1 Splatter guitar on Kat's wall goes from having three pickups to two. I also hand splashed a custom Fender/Jackson hybrid bass for my wife as a wedding present. She's got the only PC Splatter Fender/Jackson 4 string left-handed bass in the world. I even included a blue (her fave color) gem in the body. It's included in the photo with my splashed amps.
The guitar isn't a standard PC1 as it has an ebony finger board with 1 Jackson shark fin marker on the 12th fret for a start and no middle pickup, just a Dimarzio Super 3 in the bridge position and a Jackson driver/sustainer/pickup in the neck position. My guitars are loaded with FU-Tone titanium bridge and saddles and have 13-54 gauge D'addario strings. Apart from the color splashing over a black body I wrote Phil in Japanese. I did so in white ink. Each guitar is also numbered progressively in the Japanese numeric system. To accomplish this feat I was coached by Dave Kurihara at Jackson Guitars. To practice these numbers and names I painted on anything and everything from paper to blocks of wood and even amplifiers (check out my Fender Cyber Twin when I played on the Jimmy Fallon show and on the Voice).
I did a bunch of artwork on canvas and even went to the Fender Showroom in Corona, Ca to splash a giant Fender Strat that is on display in the Cleveland Rock & Roll Hall of Fame foyer (last time I saw it). There are permanent red splatter stains on the ceiling of the Fender Showroom's performance room to this day.
Anyway if you want to hear this guitar it's featured heavily on Manraze's second album 'Punkfunkrootsrock'. It's the rhythm guitar on 'Over My Dead Body' and the outro solo on 'Edge Of The World'. I play it occasionally on the current 2014 summer tour on 'Let's Get Rocked'. Tonight Sat Aug 2nd we're in Atlantic City. Think I'll play it tonight.
Back