"Always loved it. I always loved what it sounded like and after I saw my first gig, Deep Purple, it was all over. I pestered my mum and dad for an electric guitar for like two years and on my 16th birthday…I got a guitar."
-Phil Collen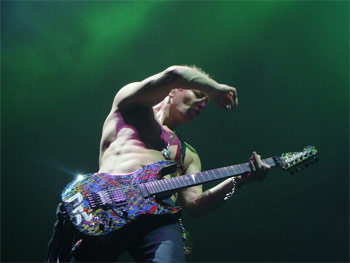 Philip Kenneth Collen was a late starter by all standards, especially when you consider his current iconic rock star status as lead guitarist for a world famous multi-platinum selling rock-n-roll band. Born in Hackney, East London, England on December 8th, 1957, Phil was influenced by everything from the Rolling Stones to the Motown sound to glam rock, hard rock, punk, or anything with a flair. He got his first guitar at the age of 16 after pestering his parents for two years. Ken, a cross country truck driver and Connie, a devoted housewife were persuaded that it was the right thing to do. This came about after Collen was taken to his first rock concert to see Deep Purple at age 14 by his cousin. "The experience changed my life," said Phil.
Collen left school at sixteen to work in a factory and as a dispatch rider. Influenced by guitar players such as Ritchie Blackmore, Jimi Hendrix, and Mick Ronson, he soon developed a flashy, aggressive style of playing rock guitar. Phil quit his day job he went on tour as a guitarist with the London-based post-punk glam rock band 'Girl'. Collen joined Def Leppard in 1982 during the Pyromania album recording sessions, playing guitar solos on the hits 'Photograph', 'Foolin'', and 'Rock Of Ages' among others. Pyromania was Def Leppard's breakthrough album and turned Def Leppard into rock super-stars almost over night. They spent the summer of 1983 at number 2 on the Billboard charts, behind Michael Jackson's Thriller, the biggest selling album of all time. Pyromania sold in excess of 10 times platinum and received a Diamond award in the US and Canada.
After the Pyromania tour ended, tragedy struck the band. During the recording of the Hysteria album drummer Rick Allen lost his left arm in a car accident on New Year's Eve 1984. The band chose not to replace Rick. He re-learned how to play the drums using his left foot to replicate left arm percussion. His dedication to the band paid off and upon the release of Hysteria Def Leppard had their best selling album to date, releasing seven singles from the album including the smash hits 'Pour Some Sugar On Me' and 'Love Bites'. The band received their second diamond album, selling over twelve million copies in the U.S alone, putting them in an exclusive group of only six bands ever to achieve two diamond albums in America. Def Leppard was now among rock-n-roll's elite which included The Beatles, Led Zeppelin, Pink Floyd, The Eagles, and Van Halen.
Fortune and fame, however, often have a price to be paid, and tragedy was to strike the band again. While creating songs for the Adrenalize album Steve Clark was found dead in his London home due to a mixture of painkillers and alcohol. Clark had been Phil's best friend and guitar partner in the band. The pair had been dubbed 'The Terror Twins' due to their "on tour shinnanigans". Soon the name became synonymous with more than pranks and their classic harmonious guitar playing became known as the 'Def Leppard sound'. Adrenalize was released with Phil Collen recording the guitar parts for both players and was the number one album in the U.S during the 1992 L.A. riots.
The nineties also saw the release of the Slang album and the ever popular Vault, Def Leppard's greatest hits album which has achieved quadruple platinum status in the U.S.A.
Expanding their reach Def Leppard collaborated with two country superstars. Tim McGraw was featured on their Sparkle Lounge single 'Nine Lives' while Taylor Swift teamed up with the band swapping hits on CMT's Crossroads which also has been released as a DVD and garnered the band two CMT nominations.
Phil and his bandmates from Manraze are currently creating music for a second album. As lead vocalist and lead guitarist he performs a modern day mix of punk, rock, and reggae with bassist Simon Laffy formerly of Girl and legendary Sex Pistols' drummer Paul Cook. The band's debut album Surreal has been released in the US and the UK to rave critical reviews comparing the band to the Police, the Foo Fighters, and the Clash. Phil Collen was the only artist to play twice at 2009's Download Festival with both bands, Manraze and Def Leppard.
These days there is intense interest in Phil Collen's health regimen and diet as there is in his music and artistic expression. Phil trains as a practicing Muay Thai kickboxer and utilizes weight work-outs culminating in three workouts a day, seven days a week under the watchful eye of his trainer Muay Thai kickboxing champion Jean Carrillo to get to and maintain his current fitness level.
Phil Collen has been a vegetarian for 27 years and alcohol-free for 22 years, busting the myth of the classic 'rockstar' stereotype wide open.