07.26.14
Guitar Blog #3 - DREAD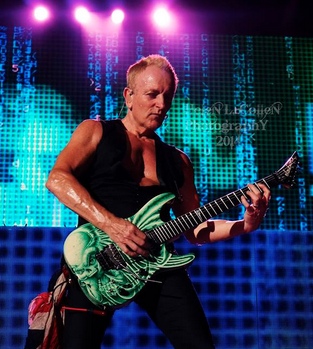 If you've seen any dates on this tour I play DREAD on "Armageddon It" and "Pour Some Sugar On Me". This guitar is one of my touring guitar favorites. It's basically a PC1 body with the Jackson driver/ sustainer in the neck position and a DiMarzio Super 3 in the bridge position. You can't see the pickup as it has a plastic cover on it to enhance the extremely elaborate paint job executed by the excellent visual and graphic artist Johnnie Grez. I heard that this paint job took 52 hours to complete. When you hold the guitar up to the light you can see why-especially on the back. Some of the water designs and dreadlocks are raised which you can feel when you touch it with your hands and/or look at it from a distance. It's almost 3D. The other thing is that Johnnie painted DREAD with glow in the dark paint (my other glow in the dark Jackson BELA gets much love and is currently imprisoned in a glass coffin at the Rock and Roll Hall of Fame Museum. Check it out if you're in Cleveland cause I'll be bringing it out for that one show only for those of you who keep asking about the 'vampire' guitar).
The subject matter of DREAD is a deadlocked monster loosley based on the creature from the movie "Predator" hence the name DREAD. We skipped the middle pickup on this guitar to give Johnnie a little more artistic freedom plus I never use the middle pickup when I play live. It has FU-TONE titanium block and bridge saddles and a Floyd Rose tremolo bridge. It's equipped with 13-54 gauge D'addario strings.
This guitar also has a few different features for me. I wanted to go back to the classic Jackson headstock that I have on my 80s Jacksons only reverse it-really a tribute to Jimi Hendrix from me. There's an ebony fingerboard which apart from having a different feel has a completely different sound. It's smoother and creamier-great for lead tones and shredding for some reason. The neck has a good chunk to it that transfers to the sound when you're playing rhythm. I'll get the neck sizes to you guys later as I'm now in cahoots with Kurt Walton at Jackson and he'll be getting the exact specs as all this stuff is recorded. Pretty cool huh?
Another little detail related to this guitar is if you look closely at the chain I have hanging off my hip it's actually the "Predator", or the head at least, making the chain links. You'd have to zoom in on that so we've actually done that for you in the photos CLICK HERE
Oh, by the way if I'm not mistaken, I believe there was another guitar made for someone out there with the same spec and artwork as DREAD, so if you're out there I'd love to see some photos.
Back