07.25.14
Guitar Blog #2 – BIG BOY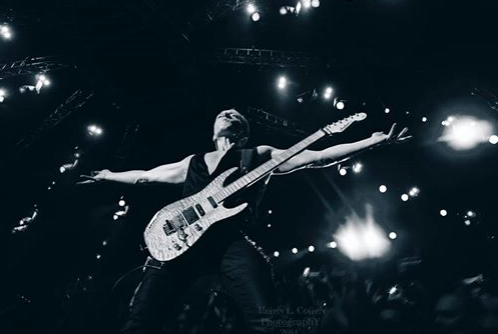 This is one of my classic signature models from Jackson Guitars-the PC1. I've been playing BIG BOY on "Let's Get Rocked" most nights on this tour. It's named BIG BOY cause it has a big neck. I like massive necks because it improves the tone of the guitar and prevents the neck from warping especially as I play really aggressively and use heavy strings by rock guitar standards (D'addario 13-54 string gauge). My guitars take so much punishment on our tours. They'll be drenched with sweat. Yeah I know its gross but I ooze when it's 100° on stage. Then the next day they may get blasted with ac. So I find bigger necks respond better to such violence plus I like the way they feel. This is something I custom order when my guitars are made. The standard necks are way smaller. Big Boy is a brother to one of my other natural PC1s. I use it as a touring guitar and the other one stays at home since I record with it a lot. In fact you can hear my other natural PC1 on "All I Wanna Do" by Manraze. It also appears on what is probably my favorite solo that I play on "Mistreated"-a song on the Delta Deep album that'll be released sometime this Fall.
The PC1s have a mahogany body with a beautiful maple top, a maple fingerboard, Dimarzio pickups (a Super 3 humbucker in the bridge position and HS2 in the middle). The neck pickup is also a sustainer/driver by Jackson that allows me to get all that screaming feedback and emulate the sustain that I used an ebow for on the Hysteria album. It sounds like a keyboard or strings on the record especially when you multi-track it. I have a Floyd Rose bridge with FU-Tone titanium saddles on the bridge and a titanium block. Just for those who wonder what a block is here's a photo. The block connects the springs on the back of a 'floating bridge guitar' to the bridge. The more vibration you get from the guitar the more lively and better it sounds. Titanium is a great vibration conductor. The other thing about this guitar is that there is no varnish per say. It has what's called an oil finish so the wood's almost raw. This helps the sound as the wood breathes better. Now I'm being ultra picky here as I have some guitars that sound incredible with 20 gallons of paint on them. But this guitar screams when you want it to and moans with mellow pleasure in an instant.
The PC1 has been around since 1996 and has so much versatility and that's why it's been my main guitar. Sorry, if I went on too much with the guitar geekdom but these are the questions people always ask me. The photos are of Big Boy in action and some tech closeup shots taken backstage with my tech Scotty Appleton at yesterday's show in Tampa, FL. It was baking hot. By the way one of the photos show two compartments on the back of the guitar. They house two batteries for the sustainer.
CLICK HERE TO SEE ALL PHOTOS!
Back